Clam Lake, WI Elk Herd Info
Clam Lake, Wisconsin Elk Herd: Elk in The Chequamegon-Nicolet National Forest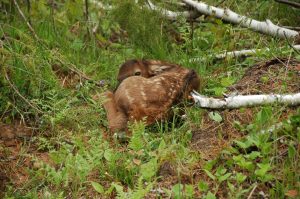 The elk herd around Clam Lake, Wisconsin was estimated to be approximately 330 individuals as of July 2021. With the addition of new animals through natural reproduction within the herd and the translocation of elk from Kentucky in the spring of 2017 and 2019, the herd has grown to a level that can sustain an annual bull-only hunting season and now occupies much of the Clam Lake Elk Range. This population has grown slowly, but steadily since reintroduction in 1995.
An interactive touch screen kiosk has been retrofitted into an existing sign board located at the junction of state highways 77 and GG in Clam Lake, Wisconsin. The kiosk is designed to provide visitors to the area with expansive information about the resident elk herd and their habitat. The program provides information about the history of elk in Wisconsin and even has a video clip of the original elk reintroduction. Most importantly, the program contains other tools and information to help visitors experience elk including wildlife spotting guides, maps and directions to nearby viewing areas. Please note that the interactive kiosk may not be available during winter months.
History of Reintroduction of Elk to Northern Wisconsin
Once widespread here and across North America, elk were eliminated from Wisconsin in the 1880s due to unregulated hunting and habitat loss. Over 130 years later, they once again live in the Central and Northern forest regions of our state. From a population of 25 elk reintroduced in 1995 near Clam Lake, and with the help of a second reintroduction efforts that started in 2015, the state's total elk population is quickly approaching 400 animals. Thanks to the support of multiple partners and the backing of Wisconsin citizens, the bugle of rutting September bulls is back and here to stay!
Today, more and more visitors come to the Clam Lake area seeking a glimpse of an elk or for the opportunity of hearing the wild bugle of a bull in the fall.
Please take care and take heed of elk crossing signs posted on area roads marking some common locations of members of the Clam Lake elk herd. Please drive safely in elk crossing zones.